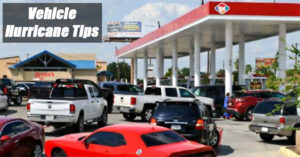 When a hurricane is headed your direction it's not just your home you need to worry about. How prepared is your vehicle if you need to evacuate at the last minute? Here are 8 things to keep in mind before it's down to the wire and you have to leave.
Windshield Wipers – Every hurricane brings large amounts of rain with it.  If your windshield wipers are streaking and not cleaning the window well you are compromising your vision and the safety of you and your family.  It's a quick and easy fix from your local automotive store.  We also recommend using rain-x on the windows to give you improved visibility even in a downpour.
Tire Pressure – Make sure your tires aren't under-inflated or over inflated.  This affects the traction of your tires and also can harm your gas mileage.  Most people don't bother to check their tires and I bet 95% of you have under-inflated tires if you were to check right now.  Most local gas stations have an outside air pump that takes quarters.  Just drop by and check and inflate each to the recommended pressure inside of the doorjamb,
Spare Tire – Have you checked it lately? Is it properly inflated? Do you have the proper tools if you need to change a tire.  Some people buy used cars and don't even realize they are missing a tire jack or lug nut tool.  If any of those things is missing or defective you can't change your tire. As your trying to escape a natural disaster is not the time you want to figure this out.
Basic Maintenance – Oil changes and recommended maintenance are important to keeping your reliable and running where you can count on it.
Burnt Out Lights – Do you only have one headlight working?  Are your blinker lights, brake lights, and flashers all working properly?  It's easy to have someone in your car testing brakes and indicators while you walk around and check. If a light isn't working get an easy bulb replacement from your local automotive shop and replace.  Usually pretty easy and prevents you from getting a ticket too.
Car Insurance – As of today most insurance companies will still let you modify your insurance in the Florida Panhandle.  But as the storm gets closer, they prevent you from making any changes.  I just added comprehensive and collision to my personal car today in the Geico app just for safety and in case I need to drive extra among a bunch of other stressed out drivers on the interstate. I even added rental car coverage too.  If you do this for only a week it usually only costs about an extra $10 – $15 for a week.  Just make sure once the hurricane passes to remove the coverage. Your car insurance company will NEVER tell you this.
Fill Up on Gas Early – As the storm gets closer more and more people start running to the gas pumps.  Going late at night can help you avoid long lines since most gas stations are 24/7 in today's world. If you have an extra 2.5 or 5 gallon plastic gas dispenser this is your chance to fill it up now.  Worst case scenario, the hurricane misses us and you just use that gas the very next time you vehicle needs it.  You don't want to leave gas with ethanol stored for very long.
Emergency Tool Kit in Your Vehicle – "Must-have" emergency items include: an automotive toolkit, a pocket knife, extra fuses, road flares, emergency tire sealant, extra quarts of motor oil, power steering fluid and antifreeze, sandpaper, electrical and duct tape, a tire jack, jumper cables, a flashlight, extra batteries, a battery-powered radio, pen and paper, a blanket, a can opener, a first aid kit, and extra reserves of water and food.
BONUS – Get cash from the bank – When electrical problems happen, credit card processing machines can stop working but businesses will still take cash.  It never hurts to have an extra $200-$300 on you in cash if you can.
Drop by or call us today to get tires checked or replaced, routine maintenance, or a even simple oil change in Crestview, FL at (850) 689-1728.