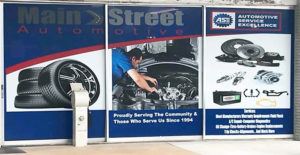 When you go to a friend or family member's home, you feel comfortable. You sit down and make yourself at home. You feel completely at ease. Why? Because you trust these people. That's exactly how Mainstreet Automotive has been doing business since it opened in 2003, and how they intend to always keep things.
Honest and affordable are very important qualities to uphold that owner Mike Starr strongly holds dear. You can feel it from the moment you walk in for service, whether it's routine maintenance or you've got a problem with your vehicle. As part of caring for the customer, Mainstreet Automotive is like a good neighbor in Crestview. One that makes you feel comfortable from the start.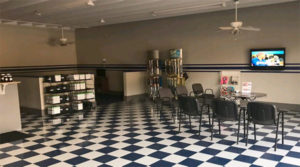 Recently, Mainstreet Automotive underwent some serious renovations in late 2017 to further ensure the comfort and convenience of all customers. The next time you visit, you'll notice the window that makes it easier for the staff in the front to communicate with technicians. You'll also notice the completely refinished checkerboard floors that look like a fresh checkered flag at the races.
The waiting area is comfortable and clean with plenty of chairs around a flat screen TV and magazines for you to pass the time. But one of the best improvements is something that every parent and child will be happiest about. Even though the technicians at Mainstreet Automotive do their best to serve you as quickly as possible, waiting for the completion of your service is something you must do.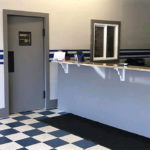 For those waiting with small children, 5 minutes can feel like 5 hours. Every parent knows that feeling as they try to sit and watch TV, read a magazine, or even get some work done via their smartphones. Waiting for your car to be serviced while you have your kids with you is a form of torture for every parent out there. The new kids' play area at Mainstreet Automotive will forever alleviate that. This enclosed carpeted area offers a safe space with toys and tv for kids to play just adjacent to the waiting area.
P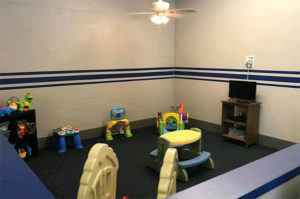 arents can sit and read, work or watch TV in peace, or even have a grown-up conversation without being interrupted constantly while kids play within sight in a safe area filled with games and toys to keep them occupied. In fact, it will keep them so busy that when you tell them it's time to go home because the car is ready, they'll throw a fit. But hey, at least you'll get a little quiet time while you're visiting Mainstreet Automotive for your next service check up! Make an appointment today at 850-689-1728.