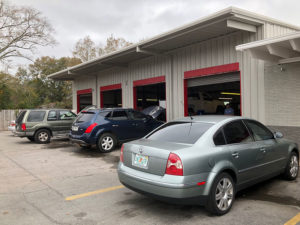 Mainstreet Automotive is a family-owned business in Crestview, Florida, that has been delivering the best auto repair and maintenance services to the residents of Crestview and the surrounding areas since 2003. Owner Jason O'Daniels and his team of automotive experts can handle your transmission replacement, brakes and other automotive issues with quality and care, all the while treating you like family.
With stellar experience and quality like this, you can rest assured that Mainstreet Automotive will get you back on the road in no time without charging you an arm or a leg to get it done. Here, you're treated like family at a place that remembers you every time you come in.
Plus, the newly-renovated shop is now even better able to serve your automotive needs. The comfortable facilities that include a children's play area make it easy for you to stop in when you need to fine-tune your vehicle. Honest and affordable, you'll never feel like you were a victim of highway robbery here.
Mainstreet Automotive is a NAPA AutoCare Center and a AAA Approved Repair Facility and can provide the same services as any big national chain while giving you the devoted and caring service of a small shop. Stop in today to get back on the road fast. You'll be glad you got things checked out before a big problem arises.
Speaking of problems, with the comfortable waiting area, you'll have no problems. No one likes to wait, but in order to check out your car right the first time and make any and all necessary repairs or simply to complete routine maintenance, you'll need to pull up a chair and wait. The comfortable customer waiting area makes it easy to unwind, and little kids will hardly put up a fuss when they get to play in the play area.
More comfort, more convenience and better service await you at Mainstreet Automotive in Crestview, FL, your local automotive repair shop with the experience of the big chains for so much less! Call us today at (850) 689-1728. to schedule your estimate, next oil change, or regularly scheduled dealer automotive maintenance.